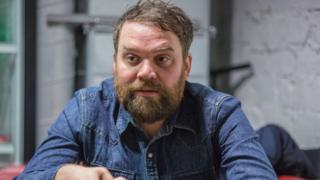 A body found at a marina on the banks of the Firth of Forth has been confirmed as missing Frightened Rabbit singer Scott Hutchison.
The discovery was made at Port Edgar, between the Forth Road Bridge and Queensferry Crossing, at about 20:30 on Thursday.
Mr Hutchison, 36, went missing in the early hours of Wednesday morning.
His family said there had been recent concerns about his mental health, and they were "devastated" by his death.
Mr Hutchison had spoken openly about his battle with depression over the years, with elder friend Neil saying he had done so "in an attempt to help other people with similar conditions".
'Articulate and charismatic'
In a statement released on Friday, the family told Mr Hutchison "wore his heart on his sleeve, and that was evident in the lyrics of his music and the contents of many of his social media posts.
"He was passionate, articulate and charismatic, as well as represent one of the funniest and kindest people we knew. Friends and family would all agree that he had a brilliant sense of humour and was a great person to be around."
'His music meant so much to people' Profile: Frightened Rabbit Scott Hutchison at The Quay Sessions with new band Mastersystem Image caption Scott Hutchison formed Frightened Rabbit alongside two brothers Grant, the band's drummer If you or someone you know has were influenced by mental health problems, these organisations may be able to help. Image caption Scott Hutchison was last seen after visiting the Dakota Hotel in South Queensferry Image caption The singer has spoken openly of his battle with depression Image caption Frightened Rabbit, pictured here at Glastonbury in 2013, released five albums