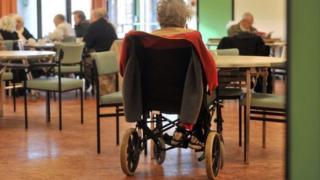 Vital care services for older and disabled people in England remain at risk – despite government attempts to protect the sector, care leaders say.
Last month, George Osborne announced plans he said would lead to an above-inflation rise in care budgets.
But council chiefs, NHS managers and care bosses have cast doubt on those asserts in a letter to the chancellor.
It alerts his schemes would leave a funding gap and put vulnerable people at risk – denied by the government.
Care services, including care homes and services that provide help in people's home for chores such as cleaning and dressing, are overseen by local councils.
Budget cuts
Over the past few years, the numbers getting assist have fallen as councils have struggled to cope with cuts to their budgets.
But in last month's spending review, Mr Osborne said he was protecting social care budgets by allowing local authorities to raise council taxation by 2% and increasing the amount of money available for the Better Care Fund, a joint pot of fund used by councils and the NHS to support care services.
He said this – read in conjunction with other changes – would mean care budgets would rise, adding the NHS could not "function effectively without good social care".
But now those involved in providing care services are questioning those claims.
---
The care system

Unlike the NHS, social care provided in an individual's home or in residential care is not free – merely the poorest get help The number of older and disabled people find council help fell by 28% between 2009 -1 0 and 2013 -1 4 Councils spent only under 14 bn last year on services An estimated 1.5 million older people with care needs rely on family and working friends for help One in 10 older people faces bills in excess of 100, 000 over their lifetime for care