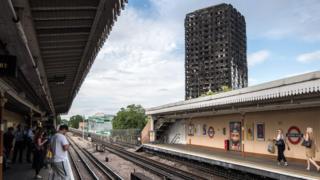 There should be a "major national investigation" into the use of cladding on high-rise towers, Theresa May says.
It comes as it was disclosed cladding from 95 towers in 32 local authority areas in England had failed flame safety exams – all of the samples submitted in so far since the Grenfell Tower fire.
An expert panel to advise on immediate safety action has been appointed.
A public inquiry has already been ordered into the 14 June blaze, which is feared to have left 79 people dead.
It has also emerged that London Fire Brigade issued a warn to all 33 London councils about panels attached to the exterior of houses in May this year, in a letter find by the BBC.