Everyones first response after an inhumanity like this is to ask how they can help. Gay and bisexual men are stymied in their attempts to do so by an outdated law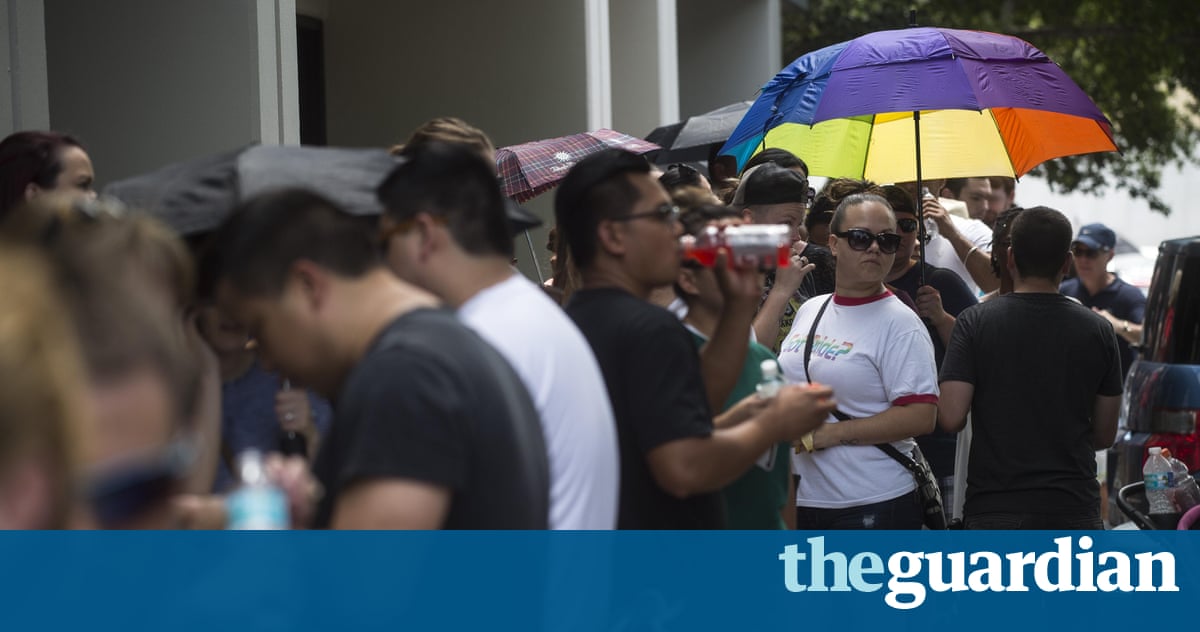 Last night at Pulse, an LGBT nightclub in Orlando, Florida, 50 of our LGBT brothers and sisters were taken from us.
Today, like so many others in my community, I am overcome with a sense of helplessness. I am overcome with the advise to do something, anything, to help the victims and their families. Many in Orlando feel a similar urge. People are lining up to give blood in the wake of the massacre.
But gay and bisexual men who want to give today are encountering an obstacle: the FDA requires a year of celibacy before men who have sex with humen can donate blood.
These new rules were put into practice in late 2015. They were presented as an end to the ban on homosexual humen blood but they are continuing mean even gay men who have been in a wholly monogamous relationship for a year are barred from donating.
Regulations against gay blood reached in 1983 in response to the panic surrounding the HIV/ Aids epidemic. The American Medical Association called for an aim to the ban in 2013, saying it was discriminatory and without a sound scientific basis. HIV-positive donors can be screened out and merely one in 2m HIV infections are caused by transfusions .
In short, the prohibition on lesbian blood is unjustified. Other countries, such as Argentina, have already done away with it.
Misinformation spread on social media Sunday, saying that the ban on homosexual blood has been temporarily lifted in Orlando because of high require. This is actually false, as local donor service OneBlood corroborates.
It is an outrage that our blood can be spilled but not donated. It is an outrage that, despite the facts and despite calls to lift the ban from experts in different regions of the country, homophobia and lesbian panic keeps it in place. Thank God for groups like the Council on American-Islamic Relations, one Muslim group mobilizing support to keep blood furnishes up.
As we celebrate Pride and yes, we will celebrate even in the wake of tragedy, as we always have let us remember our revolutionary roots. Above all, Pride is a gala of resistance. It is a gala of our audacity to exist.
And so, in the spirit of Pride, in the spirit of Stonewall, in the spirit of our LGBT family members who have been stolen from us too soon, let us continue to resist.
Today is a painful reminder that there are still so many combats left for us to battle. The oppressive, outdated policy on faggot blood is one, and it must come to an end. I look forward to a future where we can express our solidarity with those who are harmed or in need through our required donations.
Read more: www.theguardian.com