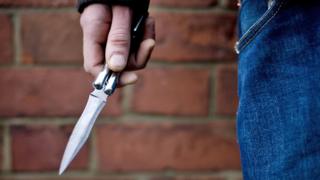 Mayor of London Sadiq Khan announces plans for a unit is an attempt to divert young person away from knife crime. The notion is based on a successful approach being implemented in Scotland. So, what can the English capital learn?
---
Scotland's Violence Reduction Unit( VRU) was set up to stem the tide of knife crime which find Glasgow become Europe's murder capital.
From its formation in 2005 the VRU proposed a fresh approach to tackling the problem.
Its key message was that gang-related stabbings and slashings were not just a policing issue but a public health issue. The unit's motto was a simple one: "Violence is preventable , not inevitable."
In 2004/05 there were 137 slayings in Scotland. But by 2016/17 the total had more than halved to 61.