It started with a bottomless tiredness, and soon novelist Sarah Perry was unable to function. Had she brought it all on herself?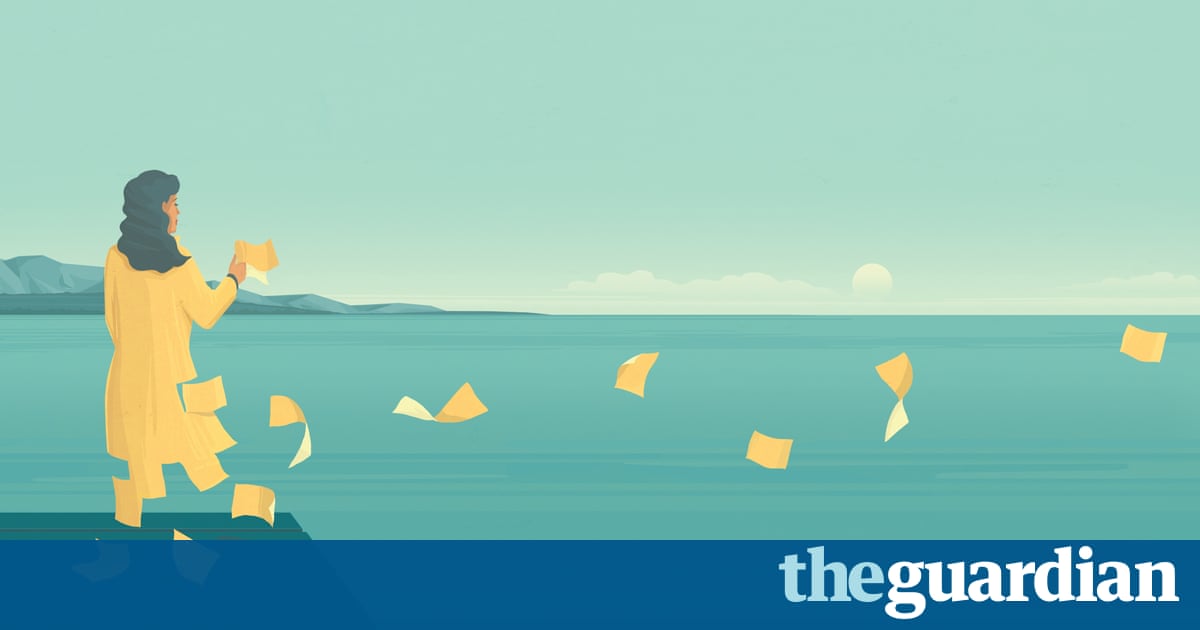 On Christmas Eve 2013, with hail falling on Norwich, I set out to jog three miles through the cyclone on the track beside the river. The spire of the cathedral was overshadowed by pearly cloud; snowdrops speckled the riverbank; it was pleasant to feel the little cut of ice on cheek. All this I recollect with wonder, for that moment has crystallised in my memory as youths last day before, at the age of 34, old age struck me like a brick in a sock.
I cannot say when I first began to realise I was ill, for it came on me surreptitiously, with each new symptom readily explained. I was tired, probably; I was anxious, that was it: cared too profoundly about the fate of my debut fiction, of the work in progress. Yet by the following Christmas I felt as though I were a poorly stitched garment coming apart at the seams. I was no athlete , nor had I ever been, but Id never been troubled by anything more serious than an asthma cough, and had always thought of myself as instead like a shire horse: healthy, stolid, big of hindquarter and small of foot; willing to walk any distance in any climate, given the promise of a nosebag. How could it be, then, that washing my hair depleted my arms until I let them fall by my side? How could a brief walk weary me to tears? Why did I wake at midnight, at two, at four, at six; why did I topple against the arm of the sofa at nine in the evening, and ask, like a child, to be put to bed? Why did I ache from heel to hip, with that dreary ache, scarcely worth a single Nurofen, that comes when one has been chilled to the marrow? By the time 2016 set its malevolent head around the door, it occurred to me that Id been in pain every day for 18 months.
In due course my mind, too, began to suffer: it felt sometimes hectic, sometimes hazy. I recollect travelling to Berlin and pacing the featureless platforms of a railway station for two full hours in a grinding, dreary anxiety, wholly unable to summon up my witticisms, in tears, beseeching passersby for help, and too ashamed to telephone the friend I was visiting and reveal that I was weak, despairing and confused. Perhaps I ought to have realised then that all was not well; that something in my body had begun to affect my ability to reason. Was it possible to lose ones intellect? The prospect appalled me. I Googled( illness loss IQ ), but found nothing satisfactory. On I went, wilfully and stupidly ignorant, the fabric of my body fraying. Within a week Id developed night sweats that caused ponds of water to collect in the declivity above my collarbone, and left my hair greasy at the scalp. The ache in my legs grew worse: it woke me from my nightmares.
Still I constructed no attempt to see a doctor. What was the point? There were three-week waits for appointments, and by then Id be dead, or cured. Meanwhile, curious new symptoms appeared: I was woken early each morning by a shattering headache and with a racing heart. Menstruation grew sluggish, and black, and almost discontinued; I developed an odd seething sensation in my head, as though an unbearable buildup of pressure had begun. Standing tranquilly in the kitchen stirring tea, Id abruptly grimace through gritted teeth, raise both hands to my confronted with thumbs clawed and rigid, and judder as though in the grip of a dreadful, wordless panic. I could never, afterwards, say why. Sometimes Id scrabble at my throat, guessing the clothes I wore were too tight; and find nothing there , nothing touching me at all.
It was the pout, the clawed hands, that in April considered me finally seated facing a GP, who noted my racing heart. What do you do? he asked, and I wished I had some useful occupation with which to justify my sickness. I wrote a book, I said. I think it violated me. Placidly, he wondered further. Did I sleep? I giggled: oh, I did not. Did I use social media? Well, as to that: a bit, I supposed. A fair bit. A lot, come to think of it. And was it stressful: the work of a novelist? Was I anxious? I told him that each sleepless night I lay reading over and over again every one-star its consideration of my work on Amazon, on Goodreads, until I had them by heart. Im told I shouldnt seem, I said, but its like Im strolling down a passageway lined with half-open doors, and behind them people are talking about how much they despise me.
Your work is not you, he said. Those are two different things. And privately I giggled, for I would not want to exist without writing, and my writing could not exist without me. We are, at best, parasite and host. If somebody dislikes my book, they hate me, I said. Everyone who rejected my volume, rejected me. He shook his head. Evidently I was suffering from anxiety. I necessitated long walks. No social media. Meditation, or perhaps a reading of a devotional text.
I nodded gratefully: of course! Id brought everything there is on myself, with my ambition, my ardent desire to be loved, my instant contempt for any accomplishment, once achieved. I was created on a diet of original sin, and readily accepted that in this, as in all things, I was at fault. He handed me a plastic phial in a plastic pouch: all the same, blood should be taken. An MOT, so to speak. Blood drawn, I stimulated my route home, and the following morning tried my hand at devotional reading and meditation. It was not a success: Id chosen to read the second Psalm, which is not calculated to allayed the troubled mind.
Three days passed, and I was summoned back to the surgery. My blood had been examined and the trouble was observed. It was my thyroid, the GP said: it was overactive, and I had thyrotoxicosis. It explained the racing heart, the insomnia, the choking sensation; the headaches and trembling hands. Probably I had an autoimmune ailment known as Graves disease: farther exams were required. Then he looked at me. I watched what you were like, he said, and made a gesture indicating liveliness, volubility. Youre very you are familiar with. But I thought that was just the route you were.
I was given beta blockers, to soothe my racing heart, and Carbimazole, to suppress my frantic thyroid. I was warned that my eyes might begin to swell, and that two brazil nuts in the morning might provide sufficient selenium to minimise the risk. At the hospital, the endocrinologist was brisk, but not unkind. Id have known at once, anywhere, that you were hyperthyroid, she said. The way you are. Your eyes. There it was again, the suggestion that my behaviour was governed not by character but by sickness. Ive always been like this, I wanted to say. Theres no donkey whose hind leg could withstand my talking.
Read more: www.theguardian.com