Gloriously rich and juicy pasta with a crunch of pine kernels. By Nigel Slater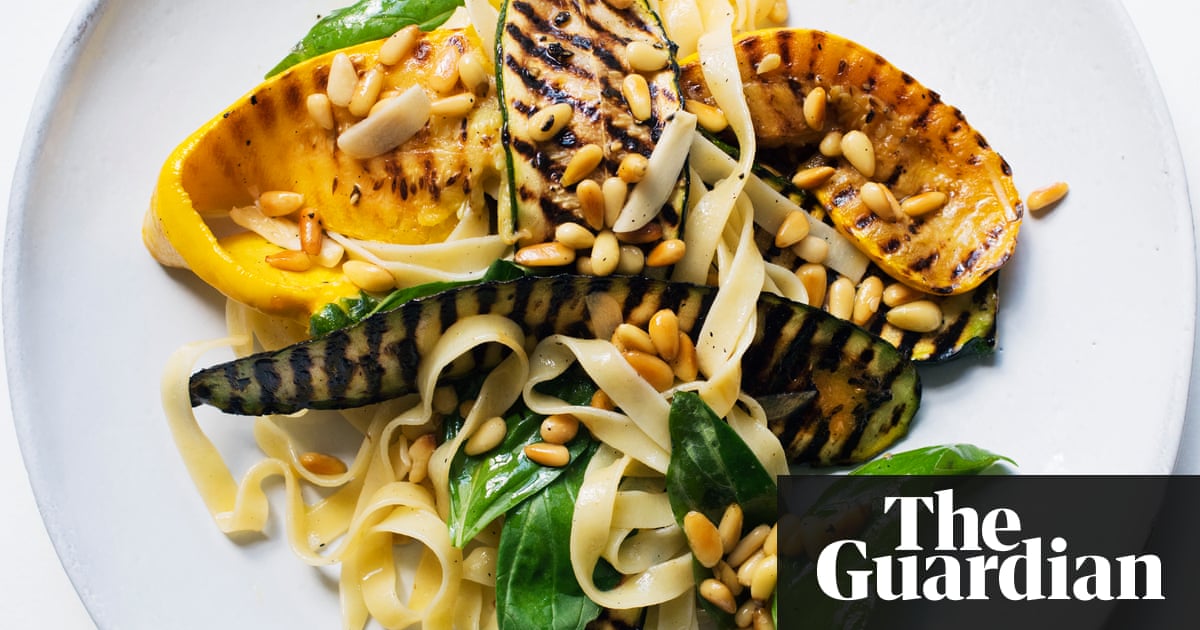 The recipe
Get a griddle pan or grill hot. Cut a couple of large courgettes into 1cm thick slice, then cook them until they have softened and darkened in patches.
While they are cooking, crush 2 or 3 fat, juicy cloves of garlic and set them in a large mixing bowl with the juice of 1 large lemon and 4 tbsp of olive oil. As soon as each piece of courgette is ready, remove it from the hot and lower it into the dres, pushing it under the surface, and set aside to marinate.
Bring a large, deep pan of water to the simmer, salt it generously then add 150 g of tagliatelle. Toast 50 g of pine kernels in a dry pan until pale gold. Tear up 10 g of basil leaves and add them, with the pine kernels, to the dressing.
Drain the pasta as soon as it is toothsome, then toss with the courgettes and their dressing.
The trick
If you grill the courgettes dry rather than coated in oil, there is less smoking to contend with. They plump up rather nicely in the olive oil and lemon dres. You can leave them overnight to genuinely soak into the marinade if you wish, leaving you merely the pasta and pine kernels to cook at the last minute.
The twist
Aubergines are a good substitute for the courgettes. Slice them thinly into rounds or long, thin slices no thicker than a one pound coin. You can introduce other herbs to the marinade- mint and coriander would certainly work well, but also oregano, a herb I am constantly attempting a use for something other than in pizza.
Some crumbled feta cheese added with the nuts would be a exhaustively good thing.
Email Nigel at nigel.slater @observer. co.uk or follow him on Twitter @NigelSlater
Read more: www.theguardian.com