Cooking with this unusual technique makes the juiciest steak, which pairs beautifully with seasonal vegetables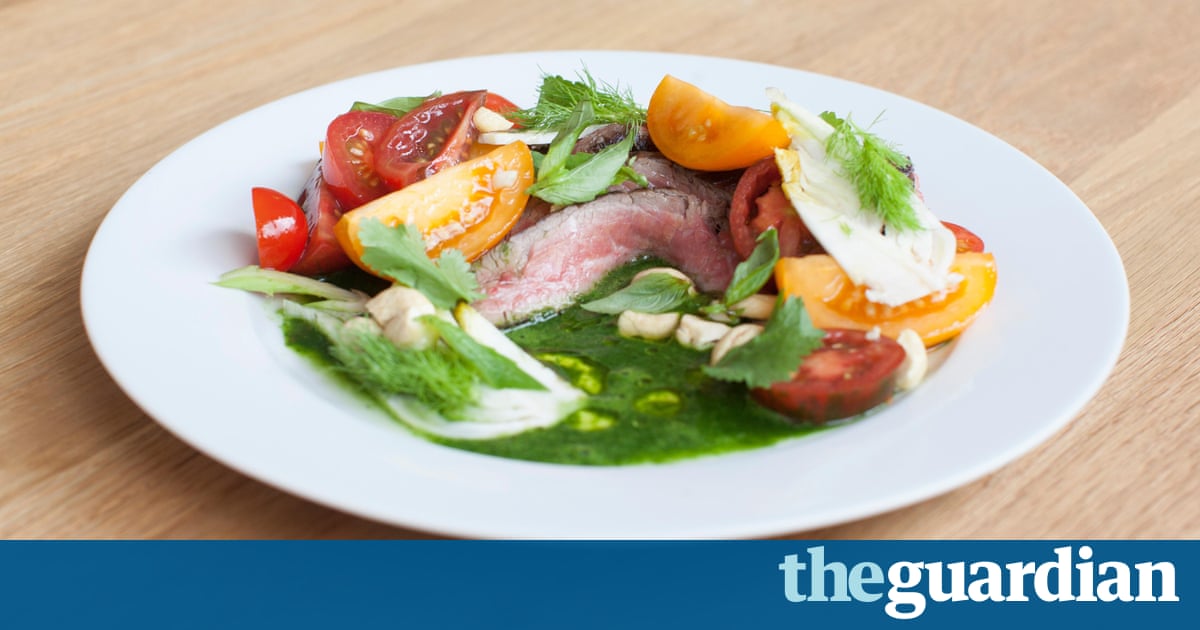 This may seem an unusual route to cook steak, but a light touch preserves the integrity of the meat and renders the juiciest melt-in-the-mouth steaks you can imagine. The garnishes are very much a reflection of what is around at the moment, so feel free to substitute as you see fit.
( Serves 4 )
For the steak :
450 g good-quality aged hanger steak, well trimmed
5 tbsp salted butter, melted
Sea salt and black pepper For the salad :
6 tomatoes of various types of shapes, colourings and sizes, wedged and sliced
1 medium-sized head of fennel, thinly sliced
4 big bulb spring onions, sliced in half lengthways
3 tbsp roasted cashew nuts, chopped
6 tsp extra-virgin olive oil, for garmenting For the sauce :
bunch coriander, leaves picked and husks disposed
bunch sorrel
bunch parsley
4 spring onion tops, sliced
6-7 big, fresh mint leaves
seeded jalapeo pepper
500 ml apple juice
Salt, to savor
Extra-virgin olive oil, for garnish
Season the steak well and bring to room temperature.
In a very hot non-stick pan, sear the meat on each side for 30 seconds, then remove from heat. Repeat this procedure six periods, allowing the meat to remainder in between, and reseason with a little ocean salt each time. After the sixth period, let it rest and slice it into long, thin slice it should be nice and pink, but warmed all the way through. Season the steak again and coat with the melted butter.
Mix together the tomatoes, fennel and cashews, and season with salt, pepper and olive oil. Sear the spring onions in the steak pan until they brown but retain their crunch.
Blend all the sauce ingredients until smooths, then season and mix again.
On a large platter, arrange the meat on the sauce with the salad on top. Scatter over the grilled spring onions, drizzle with a little olive oil and serve.
Read more: www.theguardian.com