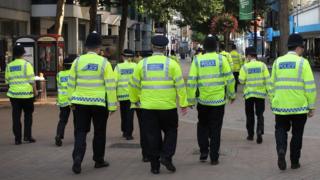 Policing in England and Wales is facing a "perfect storm" due to staff shortages and rising crime, a senior police chief is expected to say.
Policing services are routinely based on fewer people working more hours and days, Ch Supt Gavin Thomas will warn.
The president of the Police Superintendents' Association of England and Wales will say such a model is "fundamentally flawed".
He is due to deliver a speech at the group's annual conference on Monday.
Ch Supt Thomas will say: "I indicate we have a perfect blizzard developing, comprised of fewer resources, reduced public services, new threats, and a worrying increased number of some the different types of traditional crime.