A spanakopita-like filo pie with courgette instead of the usual spinach, and shaved raw courgettes that add bite to a seasonal salad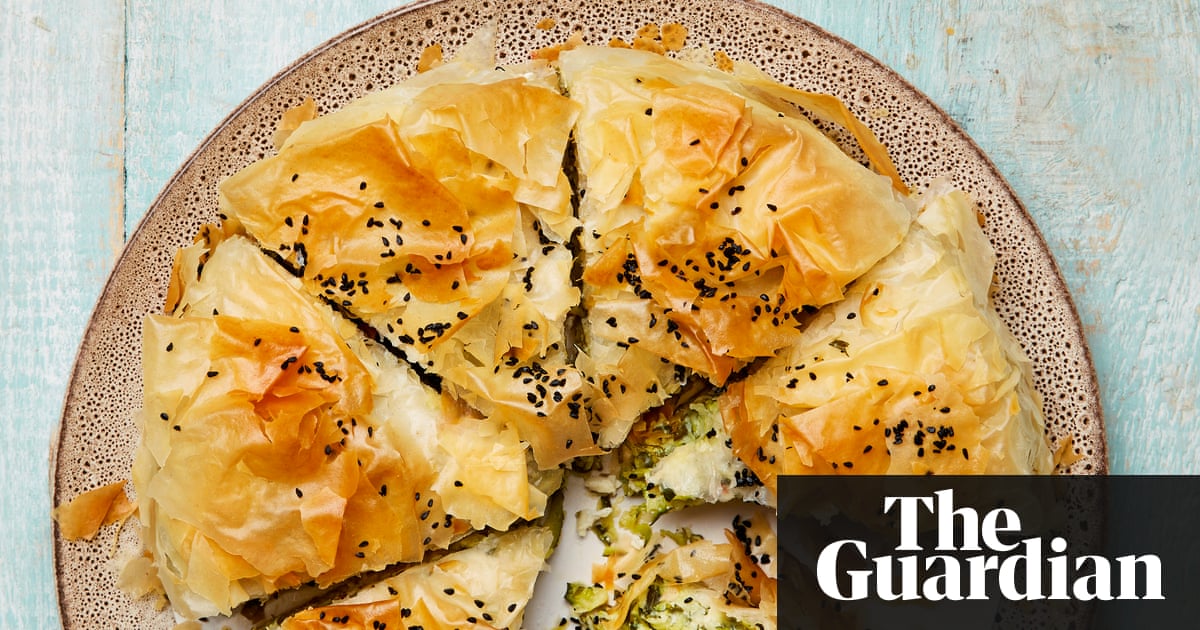 I associate courgettes with summer vacations in Greece, where the pale-skinned, pear-shaped range are sold by the roadside and served in every taverna. Luckily, there are as many ways and means to cook courgettes as there are courgettes in Greece, and each has a different effect: maximise courgettes' freshness by serving them raws, marinaded, pickled or grilled; or roast or slow-cook for a creamier outcome. This spanakopita-like filo tart, in which I swap the usual spinach for courgette, is a nod to happy summers in the Mediterranean sun.
Courgette and herb filo pie( pictured above)
I've added cheddar to what is otherwise a straightforward Greek pie, because I find it ties everything together nicely, but feel free to utilize another cheese, if you prefer.
Prep 12 min
Cook 1 hr 50 min
Serves 4
1kg courgettes ( about 6 ), trimmed and grated
Salt and black pepper
20 g dill , approximately chopped
20 g tarragon leaves , roughly chopped
20 g parsley leaves , approximately chopped
4-6 spring onions , thinly sliced( 60 g)
2 eggs , beaten
150 g feta , approximately crumbled
80 g mature cheddar , coarsely grated
1/2 tsp chilli flakes
2 tsp lemon zest , finely grated
40 ml olive oil
175 g filo pastry ( ie, 7 39 cm x 30 cm sheets)
1/2 tsp nigella seeds
Heat the oven to 170 C/ 335 F/ gas 3. Mix the grated courgettes and two teaspoons of salt in a large bowl, then tip-off into a sieve and leave to drainage for 30 minutes.
Wrap the courgettes in batches in a clean tea towel and wring tightly, to extract as much liquid as is practicable – you are able to end up with about 520 g courgette flesh. Transfer to a large bowl and add the herbs, onions, eggs, both cheeses, chilli, lemon zest, half a teaspoon of salt and a generous grind of black pepper.
Line the base of a 23 cm spring-form cake tin with greaseproof paper and gently grease the sides with petroleum. Lay a sheet of filo over the base, allowing the excess to hang over the sides of the tin, and brush with petroleum. Top with another piece of filo, rotating it somewhat so the excess hangs at a different slant, brush with oil, then recur three more days, until you have used up five sheets in all. Put the courgette filling in the centre of the tart and even it out with a spoon. Brush another piece of filo with oil, fold it in half horizontally and lay it over the fill, tucking in any excess all over the fill. Brush with petroleum, then recur with the last sheet of filo, angling it to cover any exposed fill. Fold over the overhanging filo, crinkling it up to leave a crumpled top, brush with more petroleum and sprinkle with the nigella seeds.
Transfer the tin to an oven tray and bake for 50 minutes. Take out of the oven, remove the outer ring of the tin, and cook for 15 minutes more, until golden and cooked through. Leave to cool for about 20 minutes before serving.
Herby courgettes and peas with semolina porridge
Read more: www.theguardian.com